An emergency crew was dispatched to a steel bridge in Guangzhou, China last month to smear butter over every inch of the 1,000-foot-long bridge.
The scenic bridge had become a renowned spot to commit suicide. The site is so popular among the desperate that eleven people plunged to their deaths there in April.
Chinese officials installed fences and posted notices "asking people not to commit suicide here," says a spokesperson for the PRC.
Yet the suicides continued, leading to the bizarre application of butter to a bridge.
"That's not going to stop people from jumping off the bridge," comments my wife. "That's going to cause people to fall off."
*********
In May, 66-year-old Lai Jiansheng pushed a potential jumper off the bridge.
Chen Fuchao intended to kill himself to escape a 2 million yuan debt incurred over a failed construction project.
Lai was enraged when he saw the would-be jumper on the bridge, holding up traffic. After failing to persuade the police to allow him to negotiate with Chen, Lai broke through a barricade and climbed up to Chen's perch.
Lai greeted Chen with a handshake before quickly shoving him off the bridge.
"I pushed him off because jumpers like Chen are very selfish," says Lai. "Their action violates a lot of public interest."
Meet and greet.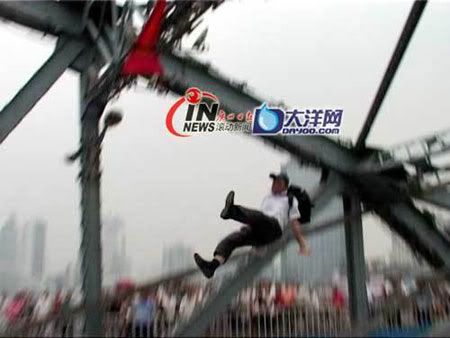 Pushed by Lai, Chen falls off bridge.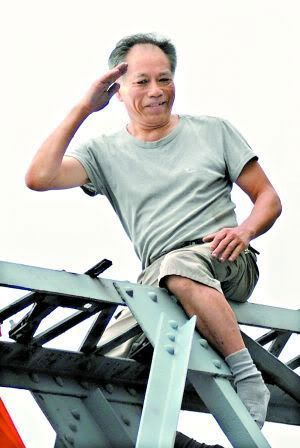 Chen salutes the crowd after pushing man off bridge.